Celebrating Our 50th Year, 2017
New Mark Commons was founded in 1967
Our 50th Anniversary Celebrations
In 2017, our community celebrated its 50th anniversary with a number of activities.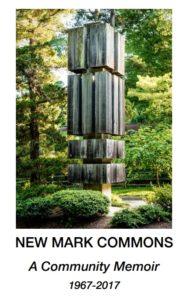 ​We made an all-out effort to collect remembrances, artifacts and photos. Some of our historic photos of a half century of life in NMC were compiled into posters that covered the walls of the Clubhouse for exhibitions that culminated with a celebration on October 21, 2017. The children of the late Edmund Bennett, the developer and builder who conceived of our historic mid-century modern community, came from across the country to attend. Bennett himself had attended the 25th anniversary celebration at the clubhouse in 1992.
A special video/slide show of remembrances, posted below, was created and shown at the Clubhouse. In addition, the 50th Anniversary Committee asked residents to share their memories and stories, and compiled them in a booklet distributed to each household: "NEW MARK COMMONS: A Community Memoir, 1967-2017." The booklet was published with the help of a $1,000 ROC-N Matching Grant from the City of Rockville. New Mark's matching contribution was  the hours of volunteer work by more than a dozen residents who were  involved in planning, interviewing, writing and compiling photographs for the commemorative pamphlet.
New Mark resident David Sloane and his sister-in-law Judi Francis created the beautiful video  documenting the history of NMC. It is followed by postings of the news coverage of our 50th anniversary activities throughout the year. We hope you enjoy it, along with the Community Memoir.
More than 100 residents and special guests turned out on the balmy October 21 evening for the annual NMC Board Open House that culminated our 50th Anniversary celebrations, with wine, beer and food aplenty, for the final 50th Anniversary Celebration.
read more
Note about photo sources