About New Mark Commons
More than just people...
Quiet Enclave with Engaged Neighbors
New Mark Commons is a quiet and secluded neighborhood located within the city limits of Rockville, Maryland, with a unique combination of modern community planning and active residents.
Ideally located between I-270 and Rockville's Town Center and Metro station, New Mark Commons was incorporated in 1967 – one of the first planned communities of its type in the country. The 384 residences include 186 detached homes and 198 townhomes.
In 2017, the community celebrated its 50th anniversary with year-long activities and publication of a New Mark Commons: A Community Memoir. On August 1, 2017 New Mark Commons was included on the National Register of Historic Places, which is administered by the National Park Service.
Home styles range from contemporary to colonial, skillfully situated to take advantage of New Mark's naturally wooded environment. Community amenities include a lake, swimming pool, tennis courts, basketball court, clubhouse, bike paths and a tot lot. Walking and gardening are favorite pastimes, and neighbors frequently stop to chat with one another. The mixture of townhomes and detached houses encourages families to stay in the community as their lifestyles evolve.
When residents venture out of the community, they benefit from close proximity to I-270 (Maryland's Technology Corridor), the Capital Beltway, the Rockville Metro system and the shops and restaurants of Town Center and the Rockville Pike.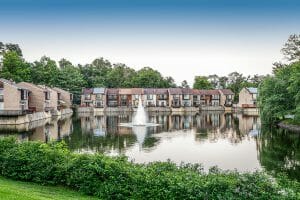 The community is governed by a seven-member volunteer Board of Directors which oversees a professional management company responsible for day-to-day management. Every homeowner is a member of the New Mark Commons Homes Association. Dues are collected semiannually.
Architectural Control Guidelines help to preserve New Mark's unique architectural style, and a special committee reviews all requests for exterior modifications. Tree preservation is another hallmark of the community and is monitored by a separate panel. Additional volunteer committees oversee activities relating to landscaping, the pool, property maintenance and communications.
Several social functions are held throughout the year, and a newsletter is published regularly. New Mark's youth actively participate in the summer Montgomery County Swim League. The Clubhouse can be rented by residents for private events.
For more information, please contact the NMC Administrator  at nmcadministrator@newmarkcommons.net or 301-468-8919.