Rockville City saluted New Mark Commons Monday night, October 16, on the occasion of its 50th anniversary, one of the highlights of this event-filled week surrounding our celebrations.
John Daroff, President of the New Mark Commons Homes Association, received the handsome wood-mounted plaque** from Mayor Bridget Newton, who asked the 20 New Mark residents in the audience to also stand for recognition.
The Certificate of Recognition notes that the community is celebrating its first 50 years as part of its renewed effort to "live up to the vision" stated by developer Edmund Bennett, who wrote in a document submitted to the City in 1965: "In our plan, a most important aim is the establishment of a community with which its residents can identify, and which provides an all-important sense of 'place' for them."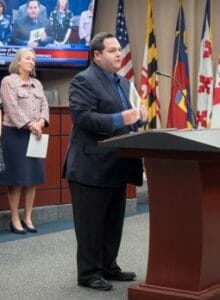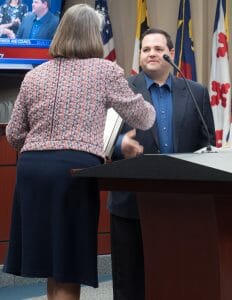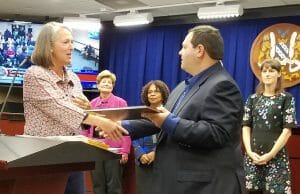 New Mark Homes Association President John Daroff receives the award of special recognition Monday night from Rockville Mayor Bridget Newton. The award salutes New Mark on its 50th Anniversary. First two photos by David Sloane; third photo by Raj Gupta.

In a special gesture for the evening, Mayor Newton invited the council to watch the showing of the seven-minute video, The History of New Mark Commons, which was created by the community during this anniversary year. It was met with some amusement at places and gained a round of applause. Mayor Newton acknowledged especially the creators of the film, David Sloane, who stood for applause, and his sister-in-law Judi Francis of New York City.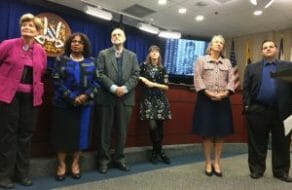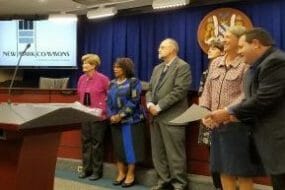 L to R: The History of New Mark Commons film holds the attention of (L to R) Rockville City Council members Beryl Feinberg, Virginia Onley, Mark Pierzchala and Julie Palakovich-Carr; Rockville Mayor Bridget Newton; and New Mark Homes Association President John Daroff.  Photos by Pat Reber (1) and Raj Gupta (2)

John also presented each Council member and the City Manager with copies of the 50th Anniversary Booklet: New Mark Commons: A Community Memoir 1967-2017. The research for the book and film was carried out by New Mark's 15-member 50th Anniversary Committee over the past 10 months.
The film is to be shown on a regular basis in the near future on Rockville City's Channel 11, and will be a major focus of the Board's Open House and 50th Annniversary Celebrations on Saturday evening at the Clubhouse. To watch the Council proceedings from Monday night, follow this link: **Presentation of Plaque to New Mark Commons.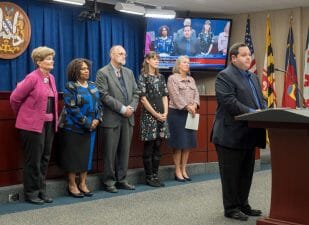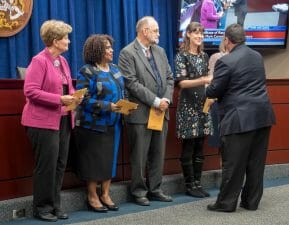 New Mark Homes Association President John Daroff thanks the City of Rockville for its support of New Mark Commons and gave a copy of the booklet New Mark Commons: A Community Memoir 1967-2017 to the mayor and each council member. Photos by David Sloan.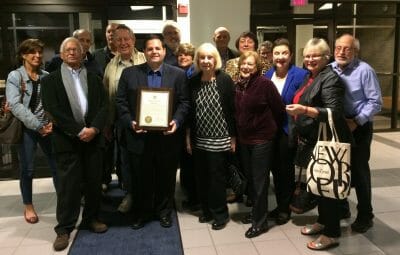 New Mark residents gathered to celebrate noisily in the lobby after the award was presented:
L to R, Front Row, staggered: Raj Gupta, John Hansman, Board President John Daroff with award, Mincy Neil, Madeline Gupta, Rose Krasnow, Pat Reber, Arthur Katz, Board member Alex Belida (hidden from view behind Pat); Back Row: Fran Denny, Steve Krasnow, Jim Denny, Board Secretary-Treasurer David Schwartzman, Board member Ellen Stein, David Sloane, Board member Alex Manolatos, Board member Kathleen Moran. Photo by Mary Lou Berg.