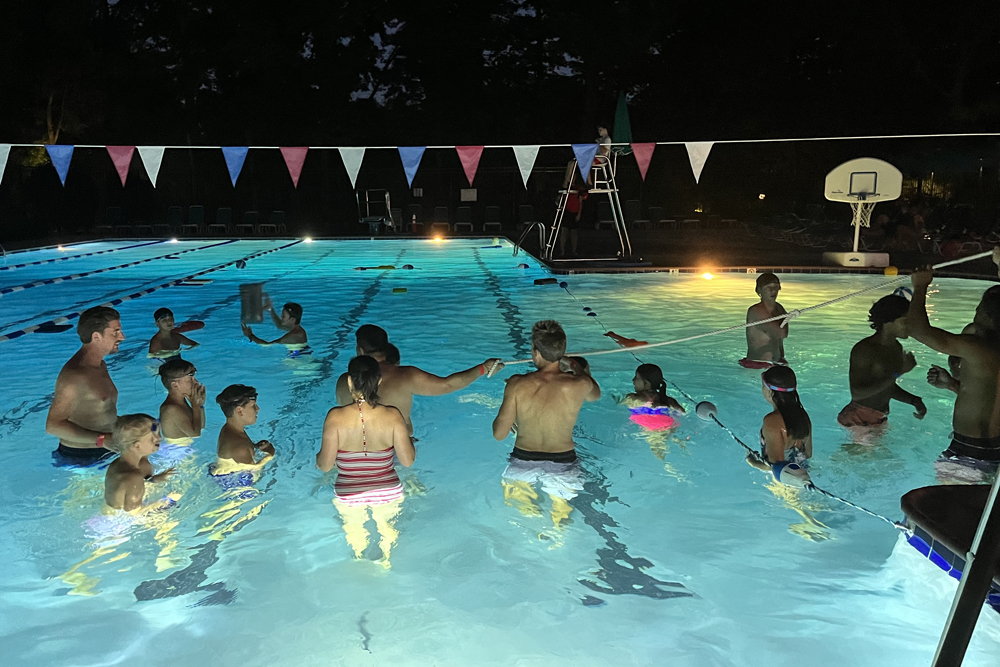 The NMC Pool Party on Saturday August 26 was a huge success; around 75 residents came to celebrate the end of the summer. Families and kids had a great time—the pool games kept adults and kids entertained through the evening. Thanks to all for coming out and especially thanks to the amazing volunteers who made this event happen!
Lori Newman was the lead for the water pool games and she had the amazing assistance of Rita Kechichian (age 11). Together they coordinated the water competitions: water balloon toss, tag of war, and digging for gems among other games. Thanks to David Schwartzman who brought his sound equipment and a great music list to entertain the residents.
Tom Crumley and Dikran Kechichian did an outstanding job at the bar stand keeping people happy with soda, beer, and wine. Lara Kechichian and Rocio Crumley worked round the clock to organize the logistics for the party and were responsible for feeding the crowds.
Lara and Rocio with help of Rita Kechichian set up a lovely decoration for the evening. Finally, Jas Zuluaga and Dilia Ramirez did a great job checking in people and providing guidance as they came to the pool deck.
We had a very pleasant evening with a great participation of NMC families and kids. Thanks to all the people who helped to do a fast clean up and leave the pool ready for the next day!