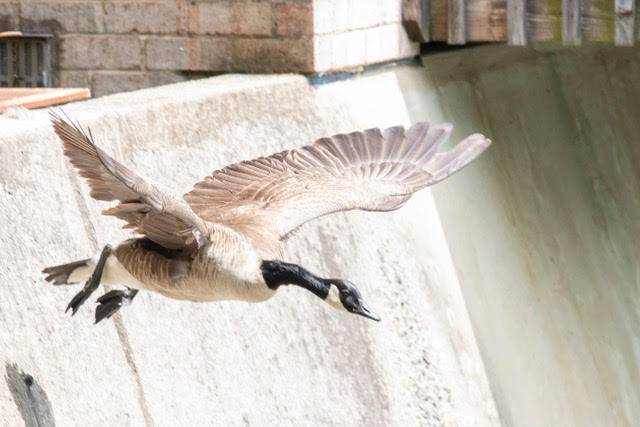 Once again, Sally Guardia has captured life on the lake with vivid photos. And for the second year in a row, she was able to photograph a gosling in daring flight from nest on a lakeside balcony down to the water following the lead of the parent.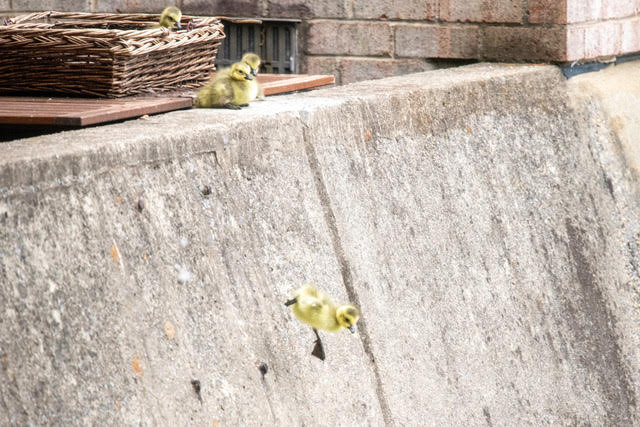 The goslings make that flight about 24 hours after hatching. The parent calls to them from the water. Two sets of parents produced ten goslings this year.
"Nine … made it successfully into the lake earlier in May," Sally wrote. "One gosling was too weak to make the jump and was taken to a rehab facility nearby."
Here's what the steps look like between the above photos of parent's flight and gosling's jump.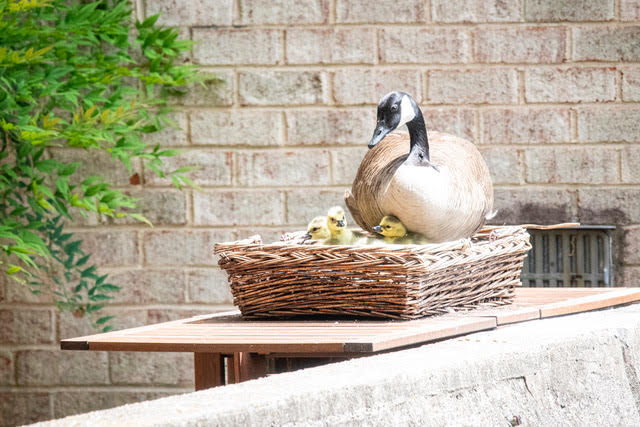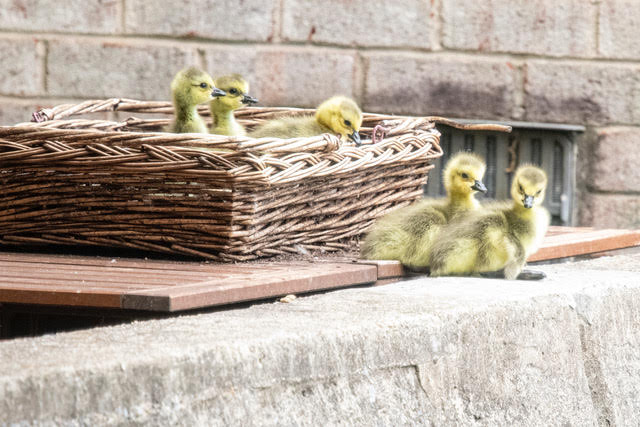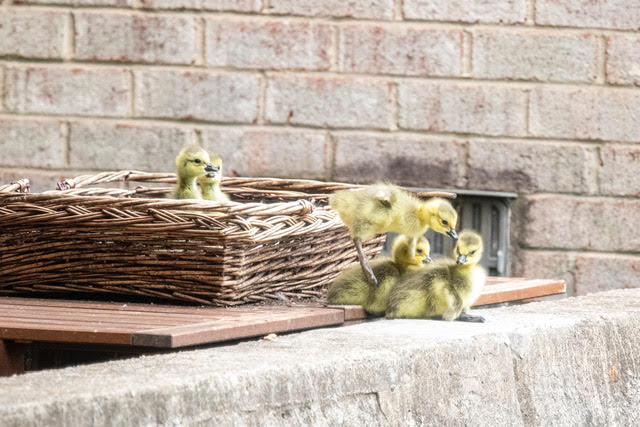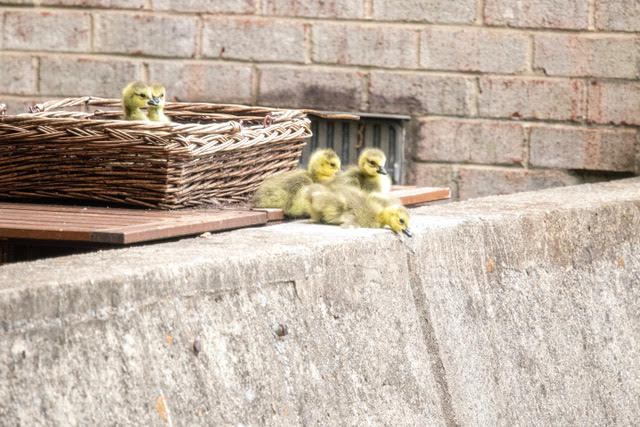 Sally also got some sweet images of the babies cuddled up and on the water— it looks like it's talking!
Finally, mom and dad shepherd them on a lake cruise.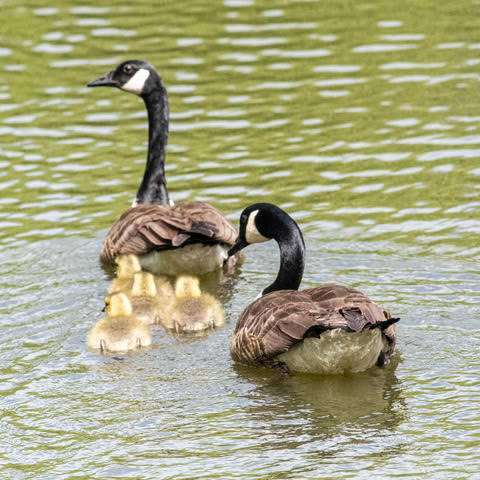 Other residents were out with their cameras. Bernadette Goovaerts sent in this scene (below) of the grazing family. We only see four goslings in this photo, so perhaps it's their sibling who's been taken to rehab?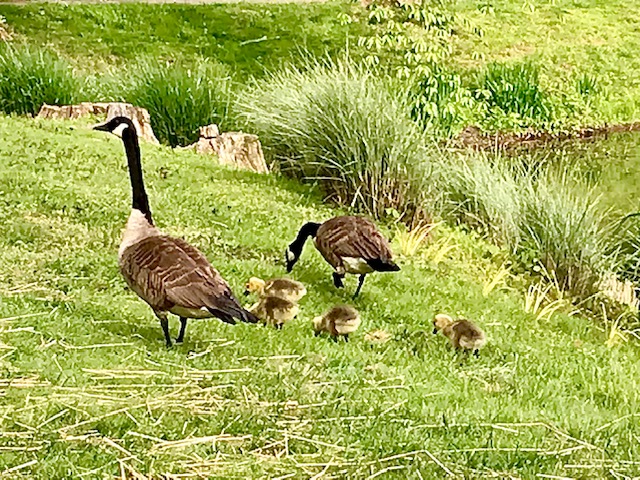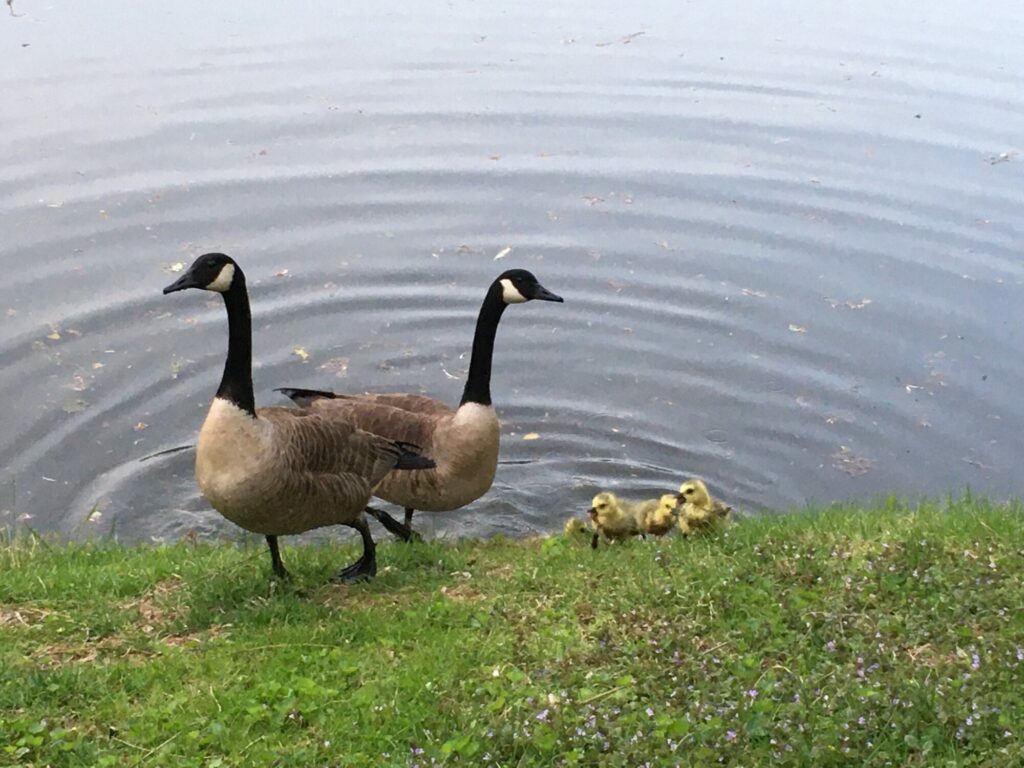 And this writer found the group of five goslings following their parents out of the water.
If you remember, our two goose pairs were met with tragedy last year. In the middle of the pandemic, as we all hoped for new signs of life, only three of six eggs hatched from one goose pair. And a second clutch of the other pair never hatched. Of the three goslings, only one made it to adulthood. A leashed dog managed to kill one of them, and the fate of the other one was unknown.
Landscape Committee member Ron Tipton last year posted this plea on NextDoor: "Please, please try to keep your dogs away from the goose family for the next couple of months they are with us."
To that, we will add: Perhaps people could walk their dogs away from the lake while the geese are with us, then return without their pets to enjoy the scene. And please, don't feed the geese.