Tribute Tree Honorees
The Board of Directors has created a program that gives residents the opportunity to donate funds to plant a tree or trees, in honor of a person who lives or has lived in NMC.
Default closed
You should never see this text. The purpose of this accordion item is to make the other accordion items closed by default. It uses custom CSS code (Advanced) to make the item invisible.
Geri Misner
Ken and Geri Misner moved to New Mark in 1972, living first in a townhome and then moving to Letchworth Circle. After Geri died in August 2018, Ken and their friends contributed to the "Forestry Fund for Geri Misner," enabling the Landscape, Tree and Lake Committee to plant two pink dogwoods and one Red Bud near the basketball courts in November 2018. Ken has since moved from New Mark Commons.
To date, $885 has been contributed to the Tribute Tree program by 16 families in memory of Geri. They are:
1. Ken Misner
2. Rene Burns and Steve Goldblatt *
3. Wini Herrmann
4. Chris and T Chiappa
5. Mary K. Spies
6. Beth and Roger Williamson
7. Linda Silversmith
8. Ellen and Neil Stein
9. Toni and Hans Schierling
10. Mary Lee
11. Kit Flynn
12. Patty and Sean Hart
13. Carol Soo
14. Martha Frew
15. Casey and Mel Kenaston
16. Judy Rudolph
Claudia Rathbone

Claudia Rathbone, who died July 2, 2018, was one of New Mark Commons' very first residents, having moved in 1967 to her home at 501 New Mark Esplanade. She was intrigued by the modern architecture of Edmund Bennett's Carderock Springs development, and when Bennett told her of his new homes opening up in Rockville, she acted quickly. "Bennett told her about [New Mark]. She came and looked at model homes. She liked the contemporary homes and was very involved in decorating the house," her widower Stanley Sirotkin recalled recently.
Above: Claudia Rathbone, photographed with the clerestory window of her New Mark home in the background. Other interior images of her mid-century home can be seen in the 50th anniversary video posted in the History section of the New Mark Commons website. Photo courtesy of Stan Sirotkin.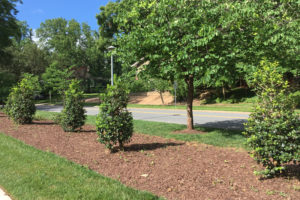 To pay tribute, Stan and Claudia's good friend and neighbor, Wini Herrmann, donated $1,000 to New Mark's Tribute Tree Program to help offset the cost of the new landscaping in the 500 block across from Claudia's home. The area had been bare since the removal of large pines two years ago. Stan and Wini's contributions are helping to defray the cost of planting the nine new American Holly trees and a Carolina Silverbell now there, in accord with a proposal from the Landscape Committee and approved by the Board.
As early as 2004, Claudia started working closely with two University of Maryland Professors—Isabelle Gournay and Mary Corbin Sies—to document New Mark's architectural history. That cooperation came about through Wini, who had arrived in New Mark two years after Claudia. Wini was an active member of Peerless Rockville, the local history group, which had been approached by the two UMD professors for information about mid-century architecture in Rockville. Wini recalls putting them in touch with Claudia, who shared the interior of her home with them for photographs.
Claudia had all the original brochures from when she first moved in, Stan recalls: "Claudia gave that all to them so they could use it for their research. She spent a lot of time talking to them, they kept coming back and asking more questions."
After more than a decade of study about New Mark, Gornay and Corbin-Sies helped submit an application to the National Park Service for New Mark Commons to be included in the National Register of Historic Places. In 2017, during the community's 50th anniversary celebrations, the Park Service approved the application. A plaque on the Clubhouse memorializes inclusion on the register. Their study is posted in the History section of the New Mark Commons website, newmarkcommons.org/history.
The interior of Stan and Claudia's home was photographed by resident David Sloane for inclusion in a special 50th anniversary video, also posted in newmarkcommons.org/history.
In memory of Claudia, Stan and Wini have each contributed $500, for a total of $1,000.
Theirs is the second contribution under the new program. In 2018, New Mark families contributed $885 for plantings in honor of the late Geri Misner, another long-term NMC resident.