Help Us Celebrate Our 50th Year
New Mark Commons was founded in 1967
Can you remember the day you moved into New Mark Commons? What stories and fun happenings do you have to share about life here? What photos?
New Mark Commons celebrates its 50th anniversary this year, and we are making an all-out effort to collect remembrances, artifacts and photos. You will see some of our historic memorabilia of a half century of life in NMC on display in the Clubhouse on Labor Day, Monday, September 4, from 10 a.m. to 2 p.m., and on Saturday, October 21. The October 21 adult evening event will be the final, formal celebration at the annual Board cocktail party, culminating the year-long schedule of special events we have held. The Clubhouse will also be open 10 a.m.-2 p.m. that day so that youngsters can have another chance to immerse themselves in the history of their neighborhood.
In addition, the 50th Anniversary Committee is compiling a special slide show of remembrances that will be shown at the Clubhouse on Labor Day and October 21. We are also publishing a booklet about our history, thanks in part to a $1,000 ROC-N Matching Grant from the City of Rockville. New Mark's matching contribution will be the hours of volunteer work by more than a dozen residents who are involved in planning, interviewing and writing the commemorative pamphlet.
If you have vignettes to share, please contact John Hansman (johnhansman10@gmail.com) or Pat Reber (prpareber@gmail.com). For photos, please contact Arthur Katz (osdobykatz@verizon.net) or David Sloane (davesloane@verizon.net).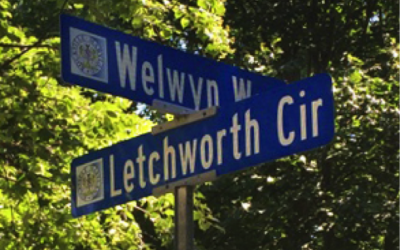 The question of how New Mark Commons got its name has never been fully resolved, apart from references to the idea that it represented a "new mark" on the landscape. But the addition of Esplanade to our main street certainly provided an international ambience to the neighborhood (and has flummoxed countless residents to spell it and explain it to outsiders.)
Nonetheless, we do know this: Ed Bennett, developer of New Mark Commons, was keenly interested in the large-scale planned communities being developed in post-war Europe. He visited many of them and showed his appreciation in naming most of the streets in New Mark.
read more